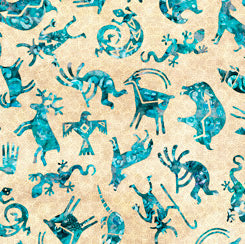 Southwest Reflect. Southwest motifs
Regular price
$6.50
$0.00
Unit price
per
A Southwestern color palette of copper, gold, terracotta, and ochre infused with aqua sets the stage for authentic regional quilts and home décor items. A collection of iconic motifs of ponies, Kokopelli, a blanket print, and suns are rendered with ©Dan Morris' popular tonal, richly detailed technique that we've all come to know and appreciate.
SOLD IN HALF YARD INCREMENTS
Quantity of 1 = 1/2 yard; Quantity of 2 = 1 yard; Quantity of 3 = 1 1/2 yards; ...
---